Whether you had received a paid or a free Matterport space from us, there are plenty of things you could use it for. Here are some of the popular advantages of a 3D virtual tour for a business in India.
To get the basics out of the way, Matterport is a U.S. based SaaS company that also manufactures some hardware for scanning purposes. This means that every month (or year), we have to pay them for hosting the files (typically 360° images) in their servers.
So, if you have a functional virtual tour, you might as well share it with your clients or customers. One of the best ways of doing this is by embedding the tour in your website.
This way, you'll be able to connect with customers who prefer staying anonymous – as opposed to sending them the link over Whatsapp. To see an example, visit this webpage of a Titan Helios store in Bangalore:
The tour is also embedded here for your reference:
Once you click the "Play" button and wait for 2-3 seconds, the slideshows will shown automatically. This feature is setup using Params. In the above case, we've used two of them:
ts=2 : Two seconds time delay for autoplay of the highlights.
hl=0 : The highlight windows on the bottom will hide automatically, to get a full screen experience.
Learn more about URL Prameters on the Matterport official website here. Although possible, we wouldn't recommend a tour to autoplay when your visitors scroll your page without clicking Play. It is a challenge in India to explain what a virtual tour is to those who are unfamiliar with the concept. In one instance, a client wanted it enabled for their website visitors who were home buyers – affluent but not quite tech savvy.
Another example of our virtual tour embedded on the client's website is here – Radisson RED, Mohali. Scroll to the middle of the page for the entire hotel's tour. Event spaces are captured separately in their own tours, wherein different setups are required – such as corporate meetings, weddings, etc.
In this example of dormakaba's Customer Experience Center in Bangalore, the tour opens into a new window so that potential guests are able to browse through the products conveniently.
When we complete our scans, we offer the main URL, embed code (iframe HTML), images and a 60-second video for all clients.
A Matterport virtual tour's panoramic and 2D (traditional images) can be extracted from any point in the tour. This gives you the flexibly to choose dramatic angles – like the corner of a classroom. Note that such content is unique and can't be compared to lifestyle photography. Traditional photography techniques such as adjustment of ISO, exposure and shutter settings are not applicable here.
Let us know your requirements, and we'll extract these images for you and send it over without any loss in quality.
If you're publishing the photos on your website, ensure they are optimised (compressed) so that your visitors don't face any lag in areas where network connectivity is slow.
For all the fancy things a virtual tour can do, in many ways, sharing the data as a regular photo might just do the trick. Uploading to Facebook or other social media channels is a great example.
Before we move away from image extraction tips, what you see below is a panoramic photo that's hosted on Google Maps. We're embedding this image, so you'll be able to pan around naturally, without having to leave our website:
The post above is a standalone panoramic image of an office space at Mohali. The below embed is of a mall (for architects and designers) in Chennai, which is connected to other panoramas. Now, you customers can see your content directly from their Google navigational apps. 
Digital Marketing with tools such as Matterport allows you to add Mattertags (informational tags) within the tour, so that a potential customer can "learn more" or "add to cart", which is not possible from Google Street View. 
So far, we've seen how you can embed your virtual tour in your website and to extract static images to share on social media. Next, a popular content consumption method for a broad audience – videos!
Once you've setup the highlights reels, those slideshows can be presented as a walkthrough video. Here, your audience won't have to click around to interact. 
The limitation of a video is that the user is unable to 'learn more' about an artefact if she wants to. Consider the textiles section from Nagaland – the slideshow is just a breeze: your user sees what you show them, not what they want to see. In a virtual tour, however, they can see the content at their own pace.
This functionality can be a dealmaker (or breaker) in Real Estate. To build trust with a potential tenant or a home buyer, they will have to see the rooms at their own pace. Here's another video:
Contact us to create such 4K videos, based on virtual tours. You can also upload them on Instagram, Google Maps, Twitter and other channels directly.
Subscribe to our channel while you're at it – https://www.youtube.com/@adostrophe. If you're an agency, we can offer this video creation service separately, so you can upload on your channel, with your unique branding.
Most clients should be able to get the above functionalities done on their own. At an advanced level, to collaborate with multiple teams for designing purposes, the virtual tours can help up to an extent.
With BIM (Building Information Modelling), the files can be used in applications such as Autodesk Revit for essential tasks such as facilities management. Note that these are paid Add-Ons that have to be ordered separately after the Matterport model has been processed.
Typical Matterport tours were so far considered not accurate enough for architectural and as-built data collection. However, dense point clouds from devices such as the Faro Focus and Leica BLK360 G2 may not be necessary for all clients.
The LOD 200 (Level of Detail) and range with devices such as Matterport scanners have to be made transparent upfront, especially with non-Indian businesses who could possibly sue for project delays. The Pro3 scanner is LiDAR based, however, the point clouds are not as dense as those from high-end total station scanners.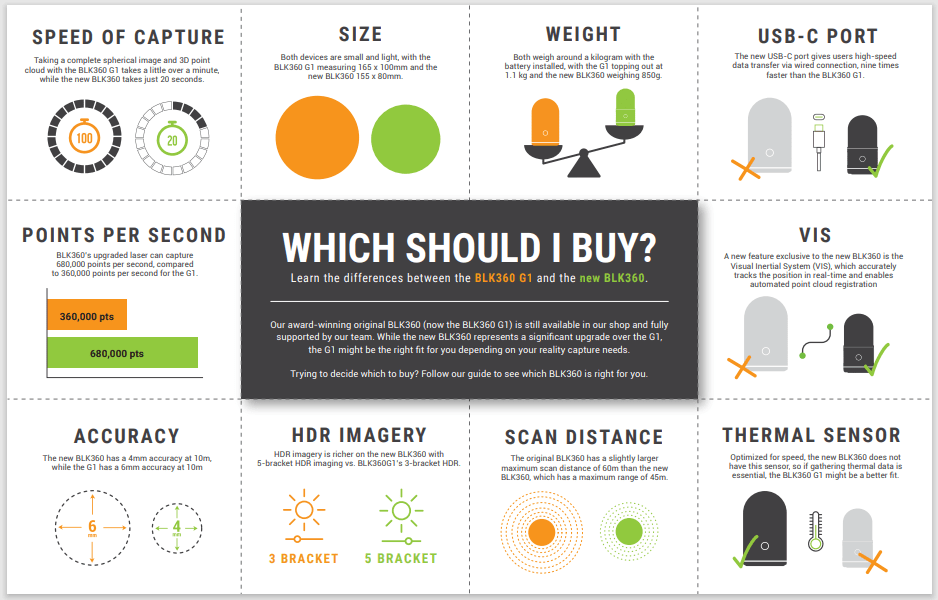 Unfortunately, the Leica BLK360 G2 is not compatible with Matterport yet. You can use your existing models to generate files such as those for BIM, E57, OBJ and more. The Matterport plugin is available at the Autodesk App store to use with Revit. External links have been added at the end of this article to learn more.
Contact us if you have any questions regarding these features or if you'd like to learn more about Leica BLK360 scanners. We'll support you before, during and after the purchase, along with demos anywhere in India. The GST billing will be processed with the manufacturer directly.
With the upcoming iPhone 15 devices and Vision Pro headsets keeping a keen eye out for LiDAR content, promoting your properties with panoramic media might give an advantage. Collaboration is now more important than ever:
Showrooms and Customer Experience Centres can display their products using MR (Mixed Reality) headsets. If Apple does release a lower cost headset, the market adoption might go larger. This could make a substantial difference for the Travel and Hospitality, Retail and other businesses who can advertise remotely.
In the above example, the client could add Adostrophe as a collaborator so that we can make edits such as adding Mattertags, Labels and Highlight Reels. Images and videos can also be created within a few hours.
From July 2023, the pricing structure of Matterport has changed. We recommend our clients to create their own Matterport account (Professional or above) so that we can upload the scans directly. Otherwise the hosting is limited to one year for paid projects and one month for models that were created for free.
We will keep all our blog posts updated regularly. Past articles have been removed to keep the content relevant to our core offerings. For any questions, feel free to contact us anytime.